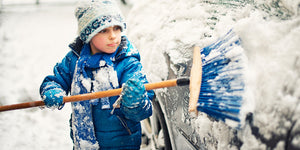 The Best Remote Car Starters exclusively offered by N-Motion Auto - Car Starter Vancouver Experts
At N-Motion Auto, we install the best remote car start systems available on the market to help make your car ride experience more enjoyable. Whether it's for heating your interior during the cold winter season or cooling it in the hot summer months, we can recommend and install an ideal remote start system just for you. We are leading experts for remote car starter systems in Vancouver.
Benefits of Remote Car Starters
One of the most obvious benefits of a remote car starter system is the ability to set your vehicles interior to a comfortable temperature, but there are actually several other benefits of a car auto start system that you may not know about. Below are some key benefits of remote starters for cars:
More efficient use of your time - Remotely starting the vehicle to allow the interior to achieve a comfortable temperature provides added efficiency on the use of your time. Whether it's extra minutes in your morning routine, finishing up at the office or even keeping the car warm at the grocery store, a remote car starter allows you more efficient use of time otherwise spent warming (or cooling) the vehicle.
Better engine performance - Warming the engine before driving through a remote auto start system ensures your vehicle's internal parts are lubricated so that when the vehicle is ready to drive, the lubricants are up to temperature and do their job to protect the engine. It's a known fact that a well lubricated engine lasts longer and performs better over the life of your vehicle.
Added security - A remote car starter provides added security when the car stays running because you can remotely lock the doors and keep the keys with you at all times. This means you will never have to leave keys in the ignition just to run a quick errand. Several of our remote car starters also include a smartphone app that can help you locate your vehicle in case you ever forget where you've parked in an undergound parkade or larger parking lot.
What We Offer - Autostart for Cars
We offer the highest quality remote car starters on the market. In addition to our professional installation, our auto starter for car products carry a full warranty and we can also combine a remote starter with additional security features to offer you peace-of-mind - knowing your car is safe and secure at all times.
Safety Features of automatic start for cars
N-Motion Auto ensures your system is integrated safely and operates without concern for accidental engagement. Here are some of the safety features we integrate into your remote car starter system:
Doors Remain Locked – All of doors remain locked in our remote car starter systems until the driver chooses when to unlock them. This means no unauthorized entrants into the vehicle, including children or potential thieves.
Engine RPM Monitoring – Our remote car starter systems monitor engine RPMs to provide confirmation the vehicle starts and does not over rev the engine. In the event the vehicle does not start on the first try and all other safety inputs are okay, the remote starter system will make two more attempts until the car starts.
Unexpected Vehicle Movement – Before the vehicle can be remotely started, the emergency brake must be engaged. This prevents unexpected vehicle movement, particularly of concern on steep hills or driveways.
Car Auto Starter Security – If the foot brake is pressed and the key is not inserted in the ignition (or the transmitter is not in range on push start systems), our remote car starters will immediately shut down the engine. This prevents unauthorized use as the syste hasn't detected an authorized driver with a key or transmitter.
Autostart Remote Starter Options
For remote control car starters, we offer 1-way and 2-way RF remote key fob remote controls in a variation of styles. Most of our remotes are very compact and can easily fit in your pocket or purse. The benefit of a 2-way system is that it provides the driver with confirmation that the vehicle has started and the doors are locked.
If you have a security system connected to your remote starter, a 2-way remote will also alert you of any activity that sets off the alarm system such as an opening of a door or impact of glass sensors. The typical range of RF remote is up to 1 km which well exceeds factory key fob remotes.
Smartphone Apps for your Automatic Car Starter
Using a smartphone app provides additional features such as checking the vehicle's temperature, confirming if doors are locked, and checking the exact location of your car via GPS tracking. You can control your vehicle's remote starter system at all times so long as your have a data signal.
Importance of Adding Security
We can add security features to just about any remote car starter system we offer. Check out our Vehicle Security page for more information about the robust vehicle security features we can provide. We are experts in both remote car starters and car security systems.
Car Remote Starter Installation
So how much does a Remote Car Starter Installation Cost? Remote car starter prices will vary depending on what features you require for your vehicle. Please stop in and visit our Burnaby location to get more details on remote start installation pricing. We can discuss a remote car starter system that'll make your vehicle much more comfortable to enter when you're ready to drive. We'll even show you some simple ways to add additional convenience features and security upgrades. Automatic remote car starter prices vary by product so please ensure you contact one of representatives for more information. Our state of the art products combined with our professional installation ensure you'll have the perfect remote car starter system for your needs. We are Vancouver and Burnaby's #1 choice for remote car starters and car starter installation.
Contact us for a free quote
---