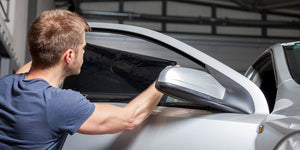 Window Tinting Gains Popularity in Vancouver
Most car owners and automobile drivers in the city of Vancouver need window tinting for various different reasons. Some may claim protection from the dangerous UV rays, others may say it is to enhance their privacy, while others find security in the window film that is used to create the tint in their car windows. However, for whatever reasons that you find yourself requiring a window tint, we are sure to give your satisfaction, with a variety of tint shades to fit each and everyone's preference.
Window Tinting in Vancouver
Car window tinting provides a functional and an aesthetic way to customize your sweet ride. We provide the highest quality window tinting in Vancouver for all sorts of vehicles that are owned.
With our high-quality window tinting films and professional expertise, you can rest assured of your vehicle's privacy and comfort, while providing you with maximum protection from harmful rays of the sun.
How Window Tinting is done
Window tinting is done by installing a window film which is a thin film that is attached to the interior of the glass window surface. Some of the top window tinting for your vehicle that we offer include:
XPEL PRIME XR™ CERAMIC Window Tinting - Extreme Performance, Exceptional QualityUtilizing a nano-ceramic construction, PRIME XR™ maintains the same flawless appearance and clarity throughout the years. Blocking up to 88% infrared heat, PRIME XR™ will provide you with the level of performance you expect from a top-of-the-line film without breaking the bank.
XPEL PRIME CS™ Window Tinting - Safety And Colour Stability Like Never Before. Protect yourself from 99% of harmful UV rays and achieve the privacy you desire with PRIME CS™, the most colour stable window tint film around. The Skin Cancer Foundation recommends PRIME CS ™ window tint as an effective UV protectant.
Importance of Window Tinting
We are here to provide you with professional window tinting service and professional advice on the right shade for your vehicle.
It is the summer season and you want to drive around the city of Vancouver. The sun shines so bright and the heat is too much to bear. Well, you can use fans to cool yourself down, but how can you protect yourself from the UV rays? Find us in Vancouver, we provide you with the best solution to the UV rays as you drive through the city. Our company provides window films that you would use to protect yourself from the UV rays. We also have professionals who will install the window tinting for you.
Our window tinting services gives you the privacy that you require to ensure that you are comfortable in your car. It might be really annoying when outsiders stare at you through the windows of your car. Stop by our stores to find you a way of keeping them off.
We provide window tinting services that will give you a sense of security. For those who wish to add window films for decoration purposes, our company provides different shades to suit your heart's desire. You can select the shade of your preference and our professional team will install it on your windows.
General Features of Window Tinting offered by N-Motion Auto
At N-Motion Auto, we aim at providing window tinting solutions that will provide you with the best services of the window tinting. We can install the tints for you or you can choose to buy the window tinting films and install them for yourself. Either way, our window tinting films have the following features:
Provides anti-glare for your car.
Window tinting films are 99% protective of the UV-rays.
Provides unprecedented film clarity.
Increased Privacy and Wireless Signal Friendly.
Gives you a sense of comfort in your vehicle.
Protects yourself and your loved ones from damaging UV radiation.
Protects the electronics, upholstery, and the interior of your vehicle from fading and discoloration.
Holds shattered glass together in the event of vandalism or theft.
Window Tinting Vancouver Pricing
The pricing of the window tinting films are determined by different customer preferences, for instance, the shade of the tint and the type of vehicle. We will provide you with all options at an affordable price.
Find out more by visiting our Window Tinting Frequently Asked Questions page.
Get a Free Quote on Window Tinting
Please stop in and visit our Burnaby location to get more details on window tinting installation options. We can discuss a window tint solution that will work best for your vehicle. We'll even show you some simple ways to add additional convenience features and optional security upgrades. We are Vancouver and Burnaby's #1 choice for window tinting installation.
Contact us for a free quote
---