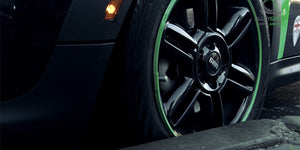 Wheel Protection Rim Protectors Still a Huge Hit in Greater Vancouver
It's been a bumpy ride on Lower Mainland streets and highways in recent months thanks to an unusually high number of potholes that have opened up, keeping municipal crews and tire shops busy. A large-enough pothole, hit at a high-enough speed, can certainly damage your wheels. At N-Motion Auto, we understand the dilemma of choosing between the appeal of alloy wheels and the dread of costly repairs and replacements caused by curbing and potholes.
It's common knowledge that alloy wheels are generally preferred over pure metals, due to their increased performance. They can dissipate heat from brakes better than steel wheels, resulting in better braking performance, as well as weighing less which enhances fuel efficiency. Their aesthetics are so sought-after that alloy wheels, which used to be an option only for high-end sports cars, can now be found even on budget friendly cars. But the downside of having alloy wheels, which causes distress for many drivers, is that they are so expensive to repair and replace when they inevitably get scratched on curbs or damaged by potholes.
AlloyGator Alloy Wheel Rim Protectors
AlloyGator high quality wheel protectors are designed to shield your alloys and tire walls from curb and pothole damage, as well other unexpected road impacts. The wheel protectors are available in 14 colours, allowing you to either keep the wheel protection subtle or give your wheels a unique style.
Engineered to be physically integrated between a tire and alloy, AlloyGator offers market leading, robust and unrivalled wheel rim protection. The wheels protectors are made from super tough blended nylon composite and offer the most versatile and robust wheel protection for varying climates and road conditions. 
AlloyGator Wheel Protectors are the only alloy wheel rim protection product on the market that has been rigorously tested to evidence its quality and safety at high speeds and varying road conditions. Don't settle for cheap wheel protector knock-offs. AlloyGator Wheel Protectors offer an affordable alternative to repairing costly alloy wheel damage, by hiding existing scuffs and scratches around an alloy rim and protecting it from further damage in the future.
Will AlloyGators Fit On Your Wheels?  
AlloyGator Wheel Protectors can be fitted to wheels which have a diameter between 12 and a 24-inches. We fit approximately 80% of OEM wheel and tire combinations and it comes down the combination. You could have AlloyGator on your summers and do a tire swap and find it doesn't fit anymore. As the tire changed. 
What Type of Wheels and Tires Are Not Recommended For AlloyGator?
AlloyGators Wheel Protectors are not recommended for diamond cut or machine polished alloy wheels. Although fitting the product will offer protection against damage, due to possible imperfections in the lacquered wheel surface, AlloyGators can increase the risk of moisture corrosion. However, providing there is no minute damage to the wheel surface, fitting AlloyGator Wheel Protectors will not accelerate damage on its own.
AlloyGator are not suitable for vehicles weighing over 2500kg or approximately 5500 pounds, this includes vehicles weighing less than 2500kg, but carrying luggage or passenger weight that causes the overall vehicle weight to exceed 2500kg.
If you are unsure about the weight of your vehicle or would like some fitting advice, please visit Nmotion Auto, we are a trained AlloyGator fitter in Burnaby, BC. Our professional installers are fully trained and can provide you with advice about the suitability of your vehicle, and your wheel and tire combination.
What Type of Wheels and Tires Are Not Recommended For AlloyGator?
3 examples of types of combos that are not suitable for AlloyGator:
Outside Weights - Wheel weights on the outside will prevent the AlloyGator from getting in.
Steel Wheels - While some may work most are not compatible.
Stretched Tires - Stretched tires make it so there is not enough tire pressure holding the AlloyGator in place.
How Does AlloyGator Work?


AlloyGator Wheel Protection Rim Protectors Vancouver Pricing
For a set of four wheel protectors Click Here
For single replacement Click Here
Please note that pricing does not include installation or shipping.
Get a Free Quote on Wheel Protection Installation
To find out about the suitability of your tires for AlloyGators, or to arrange a fitting, contact N-Motion Auto today.  We are proud to be official trade partners of AlloyGator. Please stop in and visit our Burnaby location to get more details on wheel protection installation options. We can discuss a wheel protection solution that will work best for your vehicle. We'll even show you some simple ways to add additional convenience features and optional security upgrades. We are Vancouver and Burnaby's #1 choice for wheel protection installation.
Contact us for a free quote
---