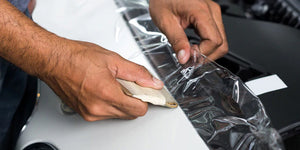 XPEL Paint Protection Film offered by N-Motion Auto - Paint Protection Film Vancouver Experts
At N-Motion Auto, we install the best paint protection film available on the market to protect your investment. Your vehicle is one of the biggest purchases you will make and it's important to protect it. Keeping your vehicle looking new with a quality paint protection film is important. Xpel Paint Protection Film is the best solution to keeping your paintwork safe from impact damage caused by stones and other flying debris.
How Vancouver Car Owners are Protecting their Cars using Paint Protection Film
So what is Paint Protection Film? Paint protection film, or "clear bra" as it is sometimes known, is one of the best ways to preserve the showroom quality finish on your vehicle. The virtually invisible urethane film will keep your car looking new by protecting vulnerable areas such as front bumpers, hoods, fenders, headlights, side mirrors, door handle cavities, door edges and rocker panels. Preserving the finish of your vehicle with paint protection film keeps your car looking newer longer, and will enhance the resale value of your vehicle in the future.
There are many choices in the market today for paint protection films (PPF), but we only use the best. NMotion exclusively uses XPEL Paint Protection Film. XPEL has leveraged their technical capability and scientific knowledge to create a film that offers world class protection for all vehicles.
Here Are Some Highlights Of XPEL Paint Protection Film:
Made in the USA
Maintenance Free
Unrivaled scratch and stain resistance
Can be removed safely
Exceptional clarity
Superior resistance to yellowing
Self-healing technology makes most scratches disappear
Tough, durable and maintenance free
Where Can I Put XPEL Paint Protection Film On My Vehicle?
Paint protection film holds up under high heat, UV exposure and salt spray. Preserving the finish of a vehicle with paint protection film (PPF) keeps it looking new and will enhance the resale value of your vehicle in the future.
When applied professionally, the transparent film is almost indistinguishable from the original finish. The tough, durable and virtually invisible urethane film offers excellent conformability around contours and is an excellent choice for maintaining the new car look that owners desire.
Leave it to the Professionals at Nmotion Auto
NMotion's XPEL Certified Installers have access to a library of thousands of computer-cut patterns that are custom tailored for each vehicle, ensuring a precise and high quality installation.
Recommended Applications:
Door edges
Door handle cavities
Headlights
Hoods
Fenders
Front bumpers
Rocker panels
Side mirrors
Trunk ledges
Learn more about XPEL Ultimate Plus Paint Protection Film
View Examples Of Our Work On Facebook
Paint Protection Film Installation
So how much does Paint Protection Film Cost? Each vehicle owner has different needs therefore pricing will vary. Please stop in and visit our Burnaby location to get more details on installation options. We can discuss a solution that will work best for your vehicle. We are your #1 choice for paint protection film in Vancouver and Burnaby.
Contact us for a free quote
---